Wow…to say I am chuffed would be an understatement! Last night Greg and I attended the Launch of the July edition of the 'Profile Magazine', Sunshine Coasts largest monthly lifestyle publication.   What a bumper issue 'Women of Influence' focussing on successful women.  AND what an honour to be featured alongside Lisa and other amazing women sharing their inspiring stories.  Who better to grace the cover of this issue than Lisa Wilkinson, journalist, presenter and co-host of the Today Show.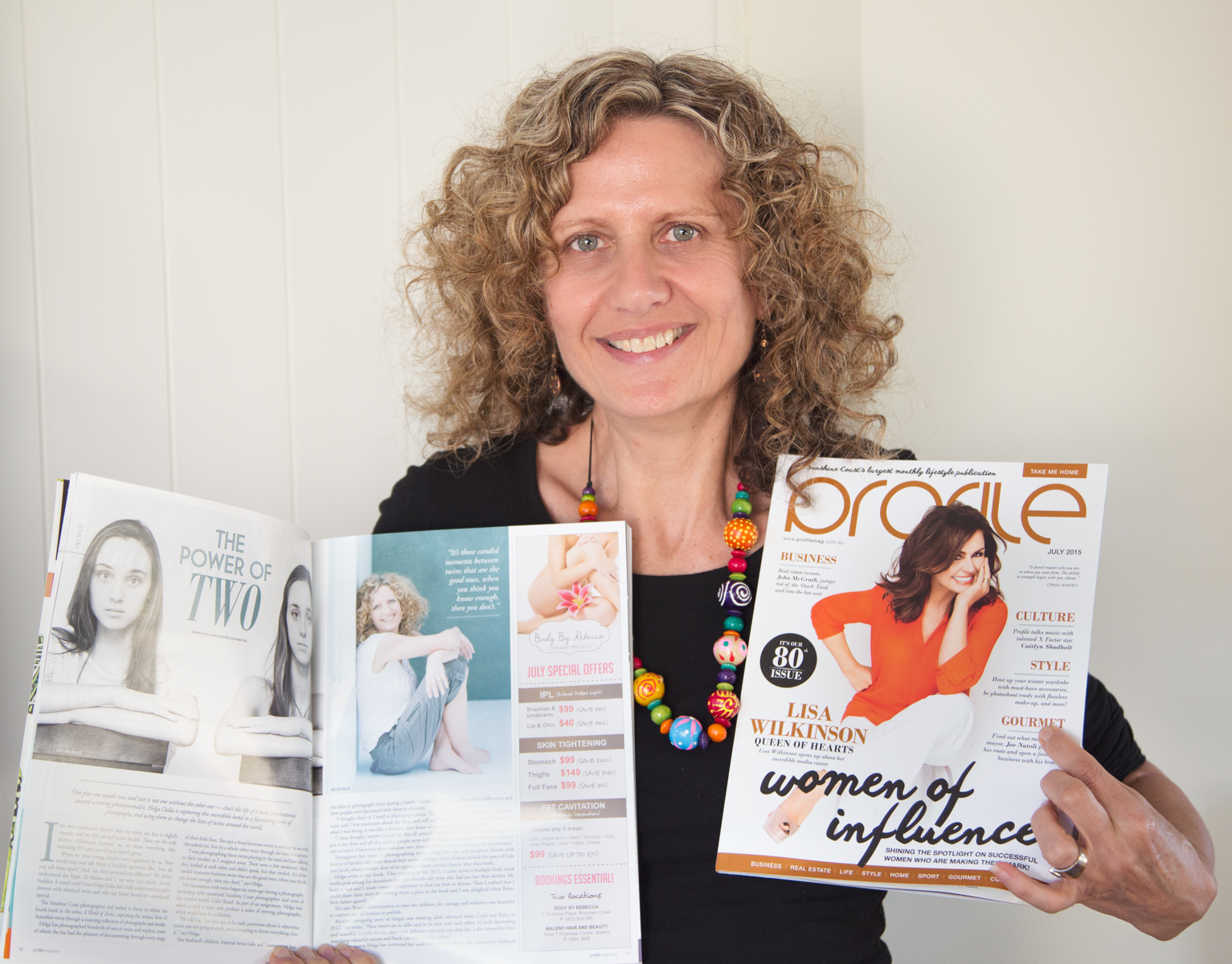 Special word of thanks and immense gratitude to my dear friend Karen Podsiadly from What the Fox Creative, the catalyst for getting my story out there and featured in the Profile.  I had the pleasure of working with Karen on the design of my twins stories book. She also designed a stunning 12 page brochure and promotional material for the launch of my book and website aworldoftwins.com.
AND SO IT BEGAN…I met journalist, Kate Davies for coffee and a chat at our local cafe Little Miss Saine.  Just happens that Kate is a twin herself, hence her interest to interview me and find out why I do what I do and what it is that draws me into photographing twins and triplets.  Kate's article 'THE POWER OF TWO' begins…
One plus one equals two, and two is not one without the other one – that's the life of a twin.  International award-winning photojournalist, Helga Dalla is capturing this incredible bond in a fascinating series of photographs, and using them to change the lives of twins around the world.
I am two centimetres shorter than my sister, my face is slightly rounder and my feet are half a size smaller. These are the only distinct differences between us, we share everything else, including 99.9 per cent of each other's genes.
When we were young, people were captivated by us. They would stop and ask Mum a bazillion questions like, 'how do you tell them apart?'  And, 'are their personalities different?'  We didn't understand the hype.  To Emma and I, we were just sisters, womb buddies. It wasn't until I met Helga Dalla did I fully understand people's interest with identical twins and why our bond should be considered special.
The Sunshine Coast photographer and author is about to release her fourth book in the series, A World of Twins, capturing the unique lives of Australian twins through a stunning collection of photographs and words.
Helga has photographed hundreds of sets of twins and triplets, some of whom she has had the pleasure of documenting through every stage of their little lives.  She says a bond between twins is not easy to see wit the naked eye, but it's a whole other story through the lens of a camera.  Read more here…
"It's those candid moments between twins that are the good ones, when you think you know enough then you don't." Helga Dalla