366 Day Project
"Magic is everywhere, explore & be amazed everyday!"
"Noosa"
Day 143 (22 May 2016)
Visiting Noosa Heads with friends today, we took a detour down Claude Batten Drive to show our visitors the beautiful Noosa Spit Reserve. I took this image standing on the end of the path looking over ocean. I love the simplicity of this shot with the three guys playing in the waters edge.
If you haven't been to Noosa Spit Reserve I highly recommend, it's a beautiful spot for a picnic and swim.
"Travis"
 Day 144 (23 May 2016)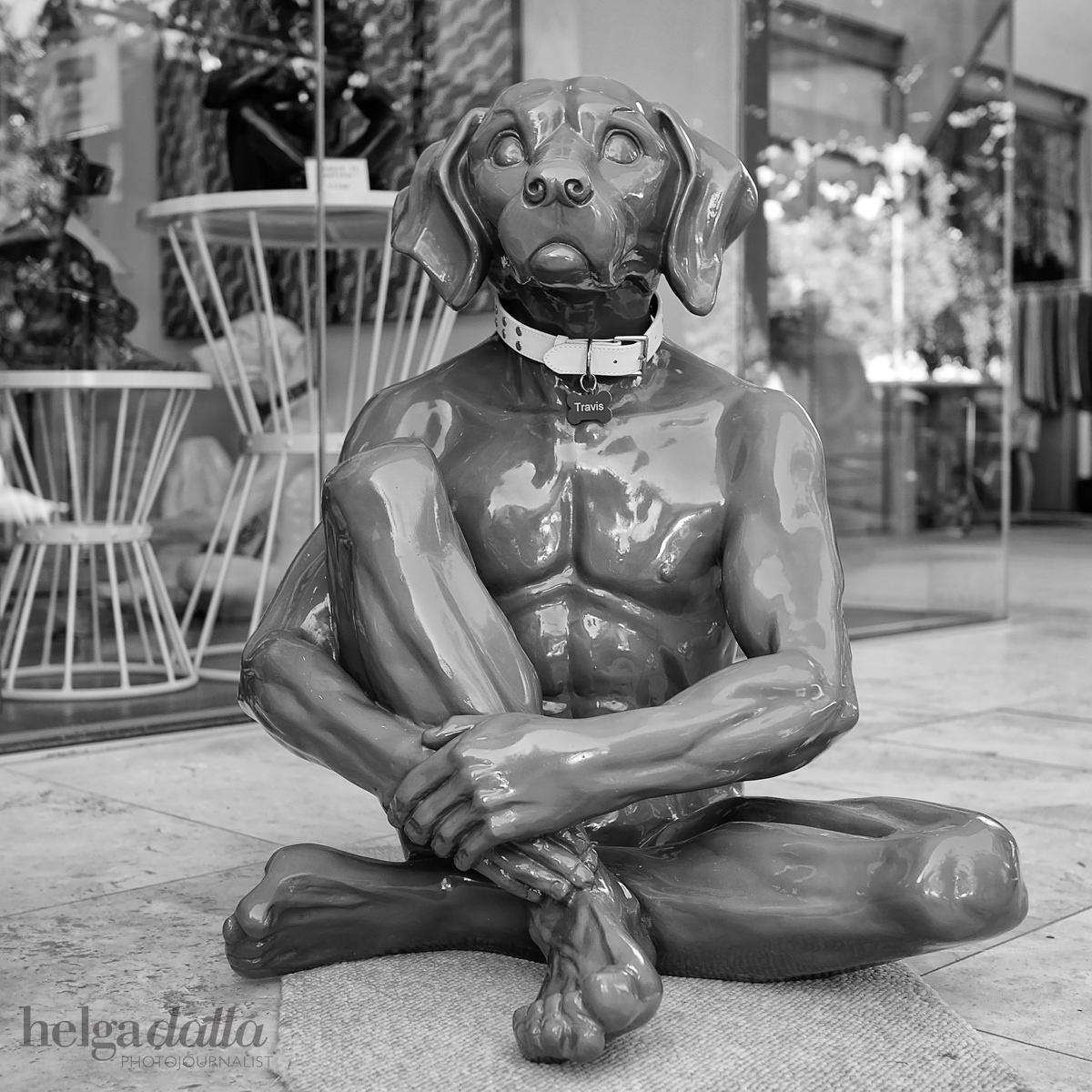 Meet Travis, how cool is he? Travis is a Dogman creation by the very talented couple Sydney-based contemporary artists Gillie and Marc the husband and wife team.
Gillie and Marc first met in Hong Kong. She was a nurse from England and he was a boy from the 'burbs' of Melbourne. Instantly they realised they'd found their soulmate, someone to start a journey encompassing their mutual love for art and adventure. Seven days later they were married in the foothills of Mount Everest. They not only share an unsurpassed dedication to their art but also love for their two children, whom Gillie describes as their 'best friends' — along with their fur baby, Indie, or course.
Gillie and Marc's iconic characters, Rabbitgirl and Dogman, tell their own spectacular love story while celebrating the powerful spiritual relationship that can exist between man and animal. The artists paint, sculpt and photograph with the goal to create joyful, thought-provoking and interactive works that celebrate unlikely unions while inspiring us to re-examine the status quo.
You can see some of their amazing creation at the Nissarana Gallery, Hastings Street, Noosa.
"Truck Art Work"
Day 145 (24 May 2016)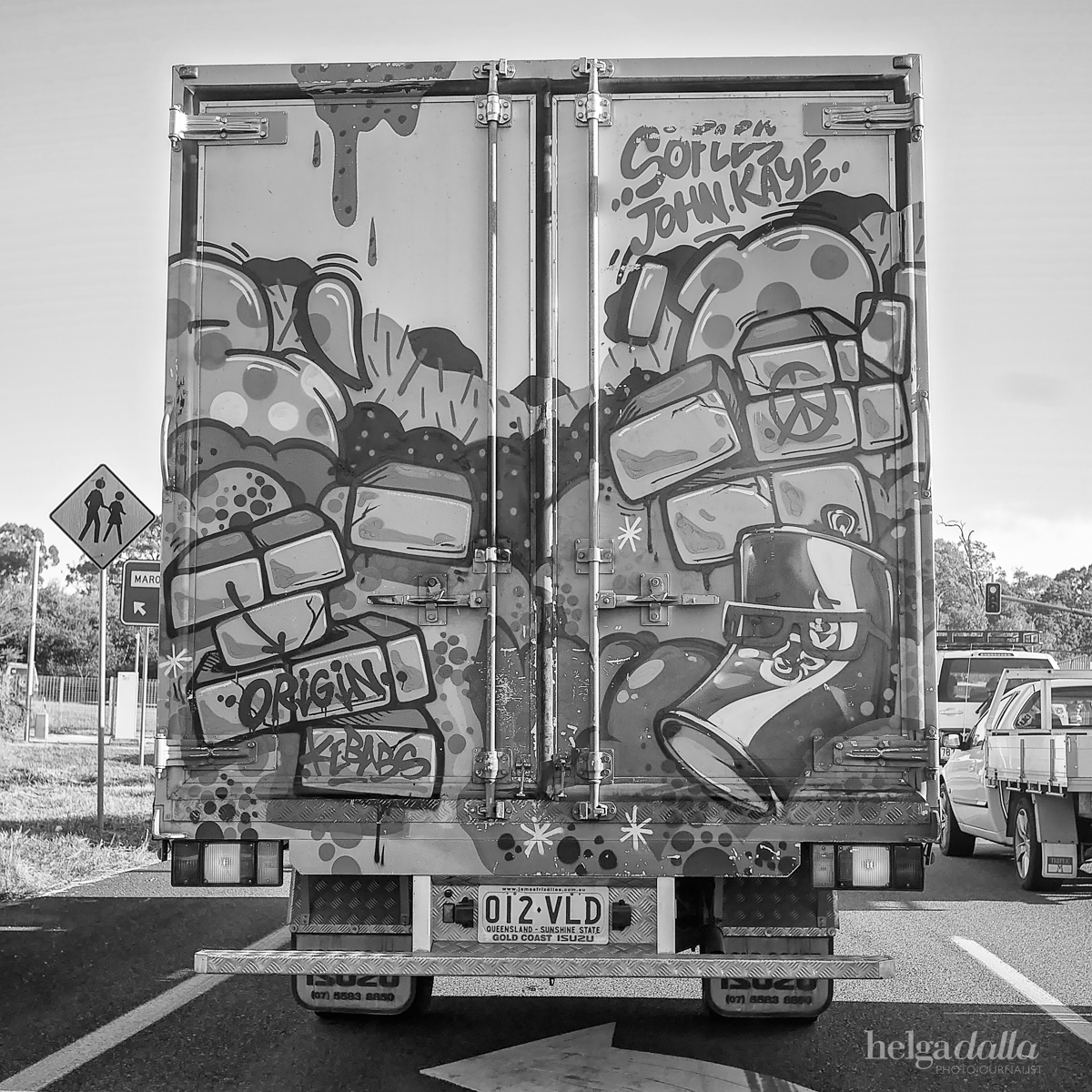 Following behind this refrigerated food truck on the Sunshine Coast motorway yesterday…I thought hey…this is pretty cool, cartoon graffiti artwork on the back of trucks. Now that is worth snapping and including in my 366 Day Project.
"Art is an evolutionary act. The shape of art and its role in society is constantly changing. At no point is art static. There are no rules."  ~  Raymond Salvatore Harmon
"Cuppaccino"
Day 146 (25 May 2016)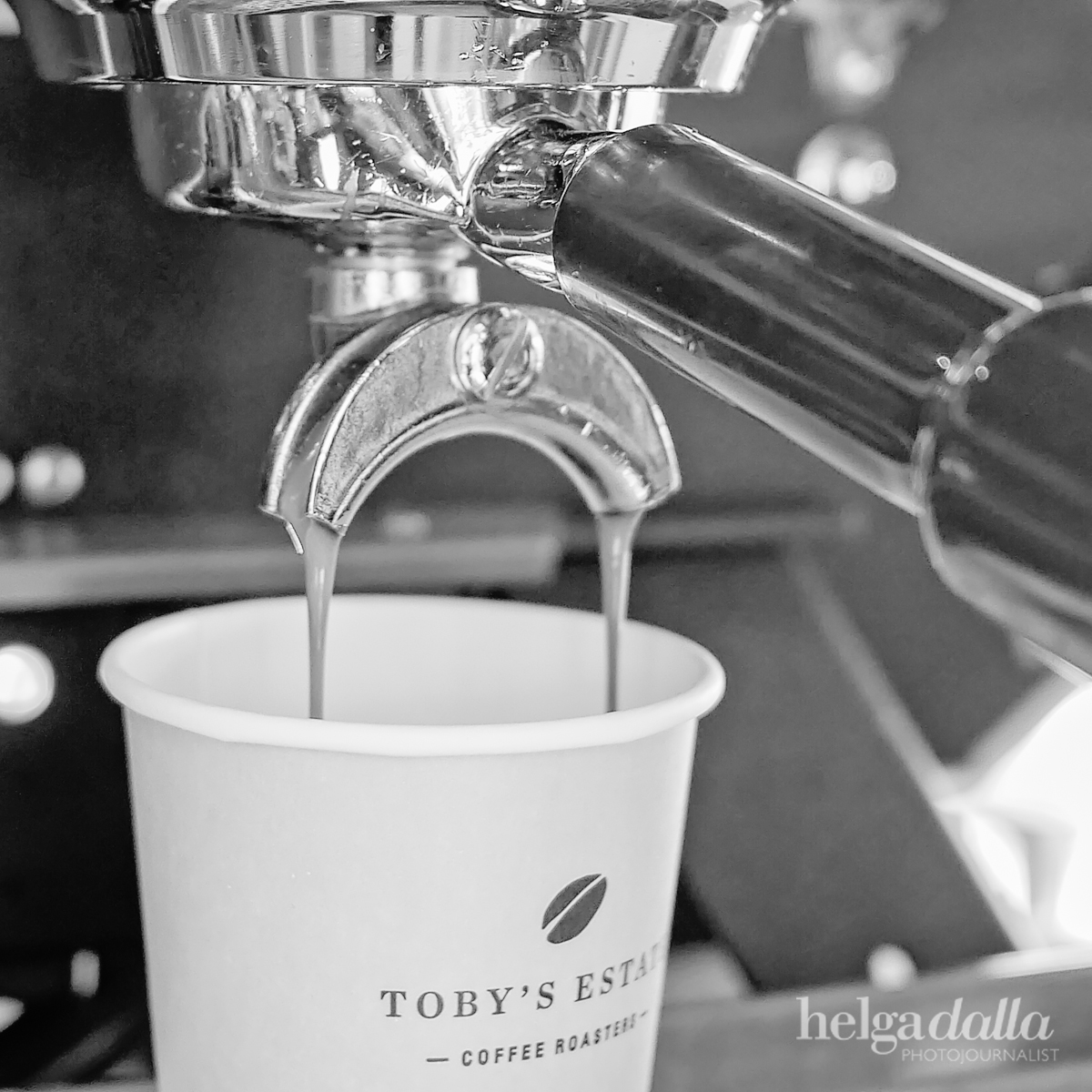 Here is my coconut cappuccino in the making by Laura at the Scrub Turkey Organics. Scrub Turkey Organics is a quaint corner store and café sourcing the best local and organic products. Owners Laura and Tori are the proud owners of their shop which is among the top 7 Best Café's and Coffee Shops on the Sunshine Coast, situated in Warana.
They can be found at 239 Nicklin Way (B Fresh complex) Tues-Fri 7am-3pm Sat 6:30am-2pm
"… food is not simply organic fuel to keep body and soul together, it is a perishable art that must be savoured at the peak of perfection." ~ E.A. Bucchianeri,
"Butterfly"
Day 147 (26 May 2016)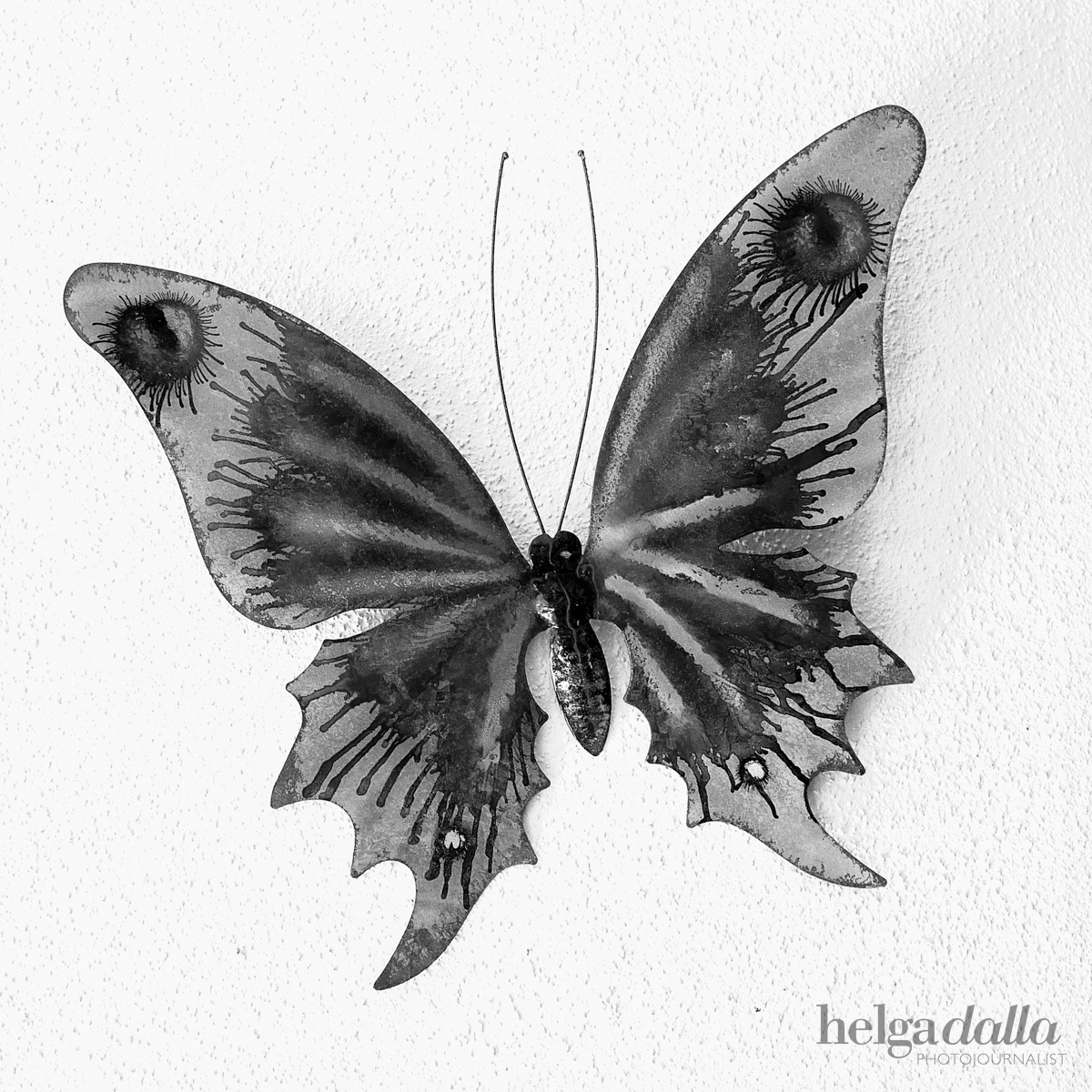 Lessons Only a Butterfly Can Teach Us
"I've always loved butterflies, because they remind me that it's never to late to transform ourselves." ~ Drew Marrymore
If nothing ever changed, there'd be no butterflies.
For a caterpillar to become a butterfly it must change.
We are all butterflies waiting to happen.
Today a caterpillar – tomorrow a butterfly. Don't lose hope because you never know what tomorrow will bring.
Just when the caterpillar thought its life was over, it became a butterfly.
When you feel that you're about to fail, it might actually be that you're about to fly.
No one can do it for you, choose to use your wings.
Life is like a butterfly – You go through changes before you become something beautiful.
Never underestimate that power that is, and has always been within you.
How does one become a butterfly? You must want to fly so much that you are willing to give up being a caterpillar.
"Life is short. If you doubt me, ask a butterfly. Their average life span is a mere five to fourteen days." ~ Ellen DeGeneres,
"Butterflies are self propelled flowers." ~ Robert A. Heinlein
"Seahorse"
Day 148 (27 May 2016)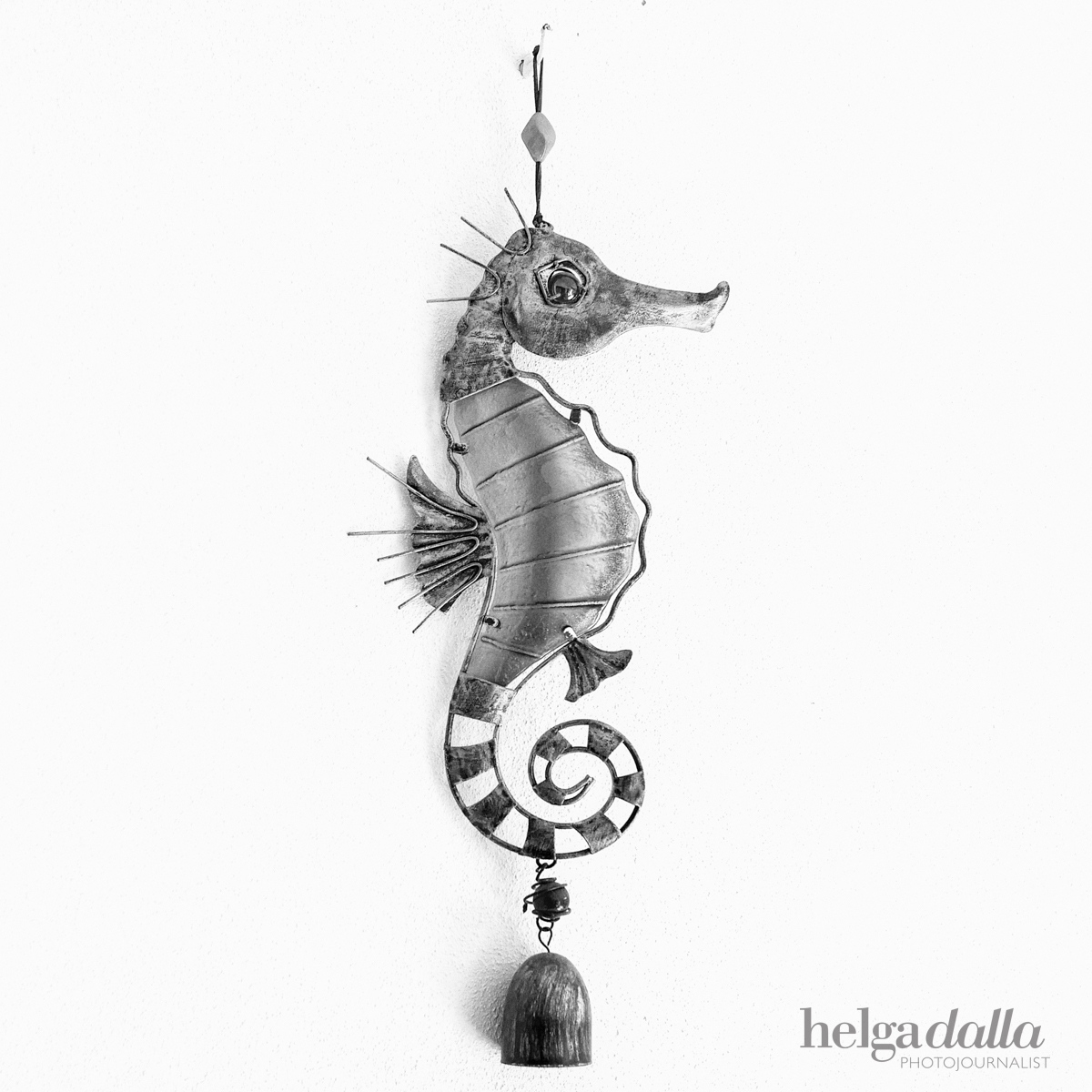 What a fascinating creature the seahorse is.
Seahorse is the name given to 54 species of small marine fishes in the genus Hippocampus. "Hippocampus" comes from the Ancient Greek word hippos meaning "horse" and kampos meaning "sea monster".
The symbolic meaning of seahorse is quite intricate and diverse as this little creature itself is full of surprises.
A relatively calm, and mild-mannered creature, the seahorse is seemingly content to roam the seas. Their bodies are geared for ambling-type motion – not for speed. Thus, they are symbolic of patience and contentment – they are happy with being where they are, and are in no hurry for advancement.
Further testimony to these attributes is the lack of evolution of the seahorse's body style. They have remained with this body style without change since their inception. Content to be who they are, and not feeling the need to change – these are a few profound lessons the seahorse provides us.
However, along with a resistance to change, and a carefree approach to progress, the seahorse can be a symbol of inflexibility or stubbornness. To wit, the seahorse wraps its tail around the nearest object in order to anchor itself in turbulent waters. This is a lesson to be persistent in our goals, but be mindful that we are not too inflexible or stubborn in our achieving them.
Seahorses are monogamous and mate for life.
"SMOKING Weber Q"
Day 149 (28 May 2016)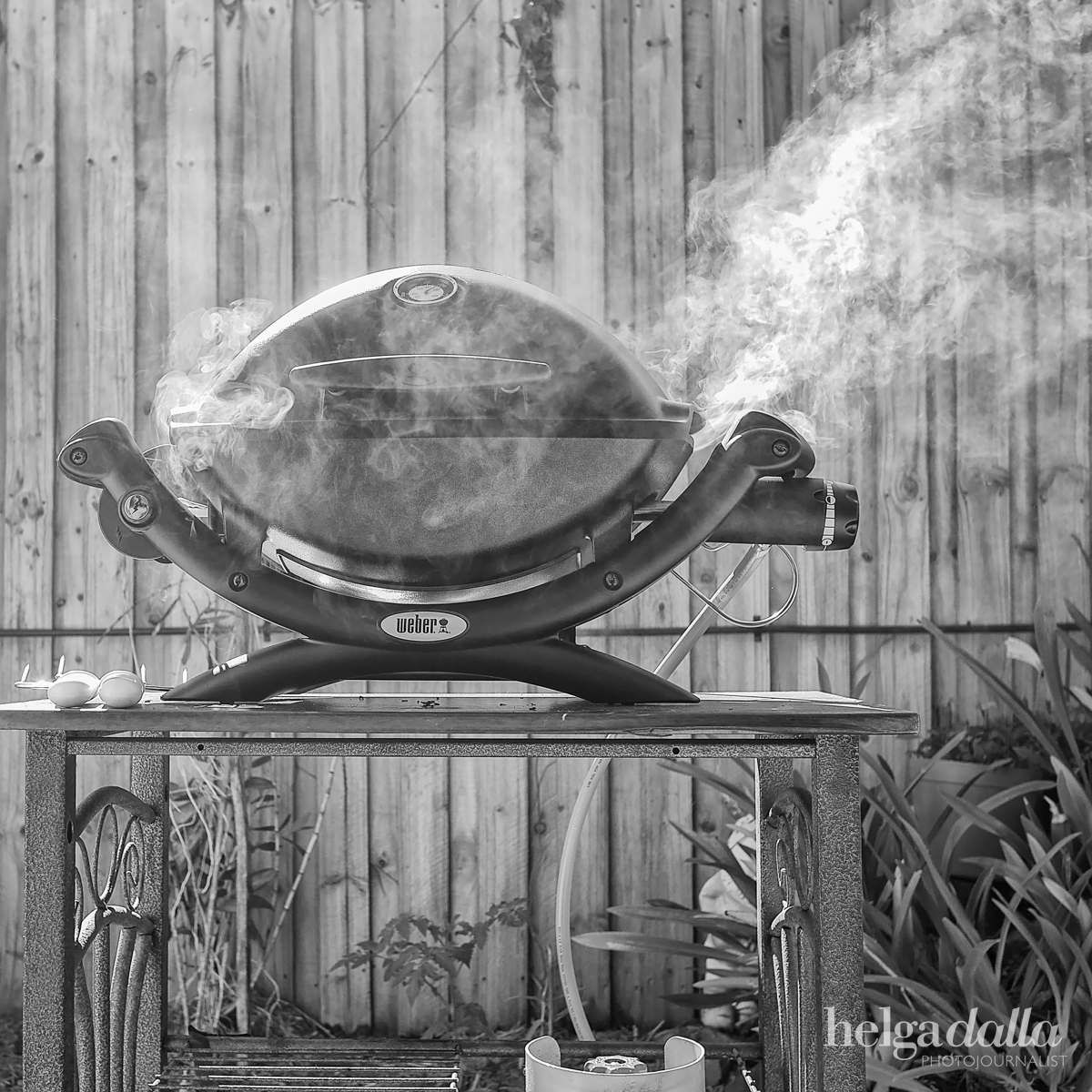 Keeping The Family Barbie Special.
We helped christen Greg's parents Weber he recently purchased on the weekend with an afternoon roast. We baked the organic roast pork we prepared for lunch. Wowsa… simply magical, mouthwatering…one of the most amazing tender and naturally flavored roasts I've ever had…I'm so hooked and want one.
Compact, powerful and contemporary, the Weber Q range of gas grills are the ultimate anytime barbecue!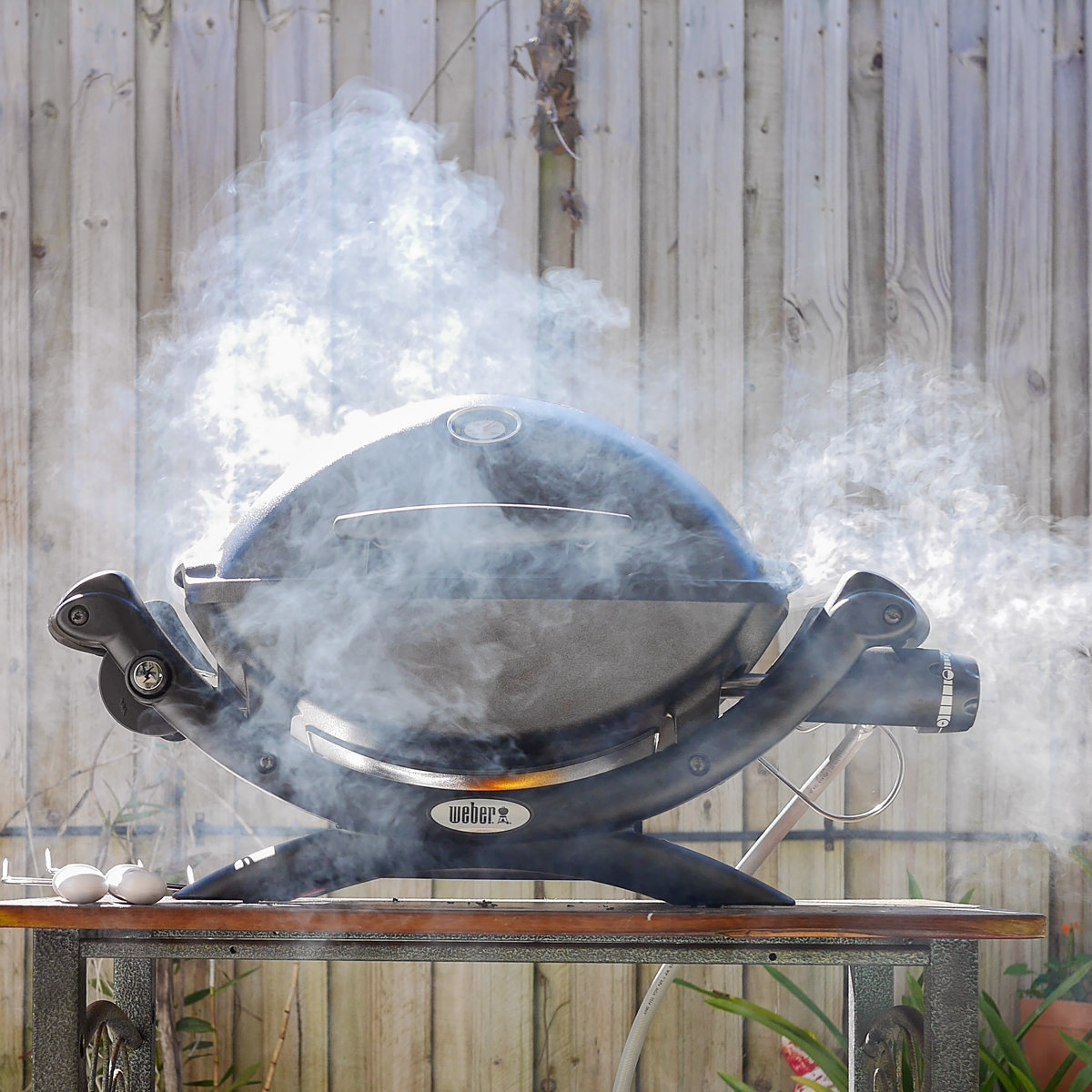 With the convenience of gas the Weber delivers unbelievable flavor and is so versatile. An Aussie snag is just a snag, right? And an Aussie steak, well it's great, but it's just a steak. Right? Wrong. The Weber Q will transform either of these simple old favorites into juicy, mouth-watering masterpieces.  It's not just the amazing barbecues though. Using Weber Q accessories can transform your Weber Q into a brilliant convection oven. Now your Weber Q can cook roasts with that famous Weber flavor; chicken, beef, lamb, pork and fish. And the Q can cook perfect pizzas, stir-fries, vegetables, vegetarian meals and breakfasts. Cakes, muffins and pudding cook just like in the oven.
In fact, the Q is so versatile it's like having all your kitchen cooking appliances rolled into one, cooking just outside the back door, helping to keep the kitchen clean, tidy and free of heat and smells.
Imagine never having to clean the oven again!  I'd call that 'magic'.