On a recent trip to Bali I couldn't resist but capture some of the unusual road rules for riding scooters in Bali.  Well I thought to be unusual, however obviously not to the Balinese.
Traffic In Bali : Driving on Bali is totally different from driving in Australia, Europe, USA, Japan etc. Traffic in South East Asia is something one needs to get used to and Bali is no exception. If you have never driven a car or scooter in Bali or cities like Jakarta, Bangkok then you might need some time to adapt. It's not as easy as it looks.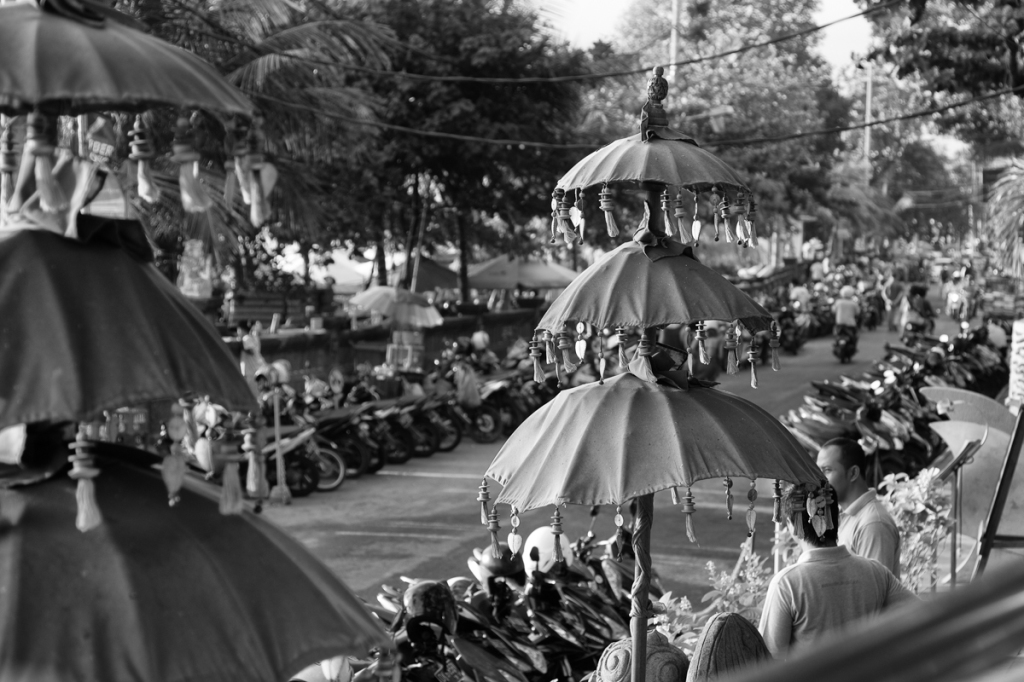 I took these images one morning at a cafe overlooking the street in-between the beach and cafe whilst enjoying my morning coffee…
Left-Hand Traffic
Horn means: Please notice me!
Many narrow roads, not many signs
Share roads with dogs, chickens, cows
Changing lines without notice is normal
Road conditions can be bad
Roads get closed off for processions
Traffic flow is rarely faster than 40km/h
Main roads (Jl. Bypass….) ca. 60-70km/h
Don't get angry
Don't get offended
Don't take yourself too seriously
Let things flow naturally
Don't insist
Accept others how they are
Feel, sense, anticipate
Stay respectful
Always be alert, aware and fully conscious
This is my favourite image: a proud responsible father carefully parks his bike.  His daughter sees me sitting across the road in the cafe with my camera pointing in her direction and glances towards me.  She looks across inquisitively, perched high  up on her child's seat fitted to the front of the bike.  I just love her bright red glasses that she wares for eye protection and I'm relieved to see she's wearing a helmet for added protection.  It was refreshing to see that the majority of local balinese now wearing head protection and there were also specific stores selling bike helmets of all shapes, sizes and styles.
No need to rush things
Nothing is what it seems
Anything can happen anytime
Good to Know
Anybody can and does enter a main road at anytime without looking. Here one of the main rules applies: Whatever you can see in front of you is your responsibility. So a motorbike driver cutting into your main road believes that you will notice him and that you would make space or slow down. If you want to overtake somebody you MUST use your horn, so they know you are coming, otherwise they might move right or left unexpectedly. Also here, the unwritten rule applies, that you need to notice and adapt to what is or appears in front of you.
Rather drive too slowly than too fast. NEVER drink and drive!
Had an scooter experience you'd like to share?  We'd love to hear about it.