From Wikipedia, the free encyclopaedia: Synergy is the creation of a whole that is greater than the simple sum of its parts. The term synergy comes from the Attic Greek word συνεργία synergia[1] (confer Koine Greek: συνέργεια synergeia) from synergos, συνεργός, meaning "working together".
Yesterday I stumbled across a post on Facebook, a call out from my good friend Carol Brunswick.  Carol is the owner of a national business Abdomend in Australia.  She put a shout out to the Aussie Mumpreneaurs seeking prizes for her business Abdomend In Australia based around a theme of Tuesday Freebie's – 52 Weeks of Giveaways – Mum's in Business!  
Yeah, this was right up my ally. I love helping others and contributing so naturally replied offering prize: a copy of my latest book, 'A World of Twins', Stories and images of Australian twins, triplets and their families and a 12 month membership.  On the same post I saw another enquiry and decided to reach out and make contact to see if there was any synergy between our business and client base that we could work on together.   So within 24hrs we hooked up on the phone and to say I'm excited I made the bold move to reach out is an understatement.  Lots of synergy and lots of exciting things to work together on in the future.
By way of introduction: meet Julie-Anne England, 'Jules', the proud owner and founder of Small Steps Parenting Magazine. Small Steps Parenting Magazine is a local, family friendly magazine available free online to families plus in print via subscription. Julie-Anne believes that parents have within them the ability to be the best parent they can for their child and Small Steps is about empowering these parents by providing articles, resources and professionals to help them during each stage.
When the magazine launched in 2013, Julie-Anne had over 3000 readers which has steadily risen with each month. She now envisions putting copies into the hands of parents all over Australia and using finances to support those in need.
Julie-Anne has over 15 years experience working with children and parents, has studied various areas including childcare, business, design and more. She is mother to two young girls and is living her dream of being a stay-at-home business mum.
More recently, Julie-Anne was awarded a finalist in the 2014 Australian Small Business Champion Awards.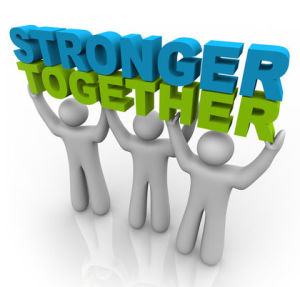 The purpose of my message here, even if a little long winded, is to, not only introduce you to two these two amazing Mumpreneaurs Carol Brunswick and Julie-Anne England), but to emphasis how a synergistic working relationship can be a powerful phenomenon to witness in action —people working together to consume the fewest resources possible to get the job done, while achieving a higher quantity and quality output than if they worked independently. Sponsors, agents, and targets who achieve a high level of synergy stand a much greater chance of realising their goals during major change and growth cycles in their business. I'm excited to join forces with both these two amazing mum's in business to see what amazing contributions we can put out there to the universe…watch this space!
Synergy is the creation of a whole that is greater than the simple sum of its parts.